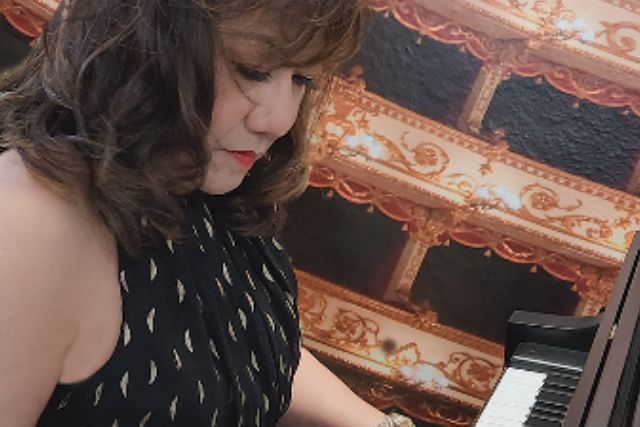 Award-winning Pianist DEBBIE TORRES & the ALL-STARS BAND | feat: Sekou Bunch (MD, bass), Felix "D-Kat" Pollard (drums), Ash Jangda (guitar), Keith McKelley (sax) and special guest Elmer Armstrong
Show: 8:30 pm
All Ages
Debbie Torres was born in Rochester, New York and raised in the Philippines. Her budding talent and passion for music began at the tender age of 7.

She had her first piano lessons from her mom, Professor Aurora Aquino Torres and studied the electronic organ under Professor Carmencita Arambulo at the Greenhills Music Studio. By age 12, she performed for live audience and at Yamaha organ competitions wherein she placed 2nd in her first competition
and proceeded to place 1st thereafter. At age 15, she made her solo debut at the Assumption College San Lorenzo, Assumption Iloilo, and at the Meralco Theater.

She toured much of the southern Philippines and was invited numerous times as a guest performer on the Philippine television show, "Seeing Stars with Joe Quirino." She was also honored by Yamaha as a Special
Awardee at the Philippine National Yamaha Electone Competition.

Debbie ventured into jazz music and soon discovered a love and passion for the genre. That newfound devotion prompted her to study at Berklee College of Music in Boston, Massachusetts. She graduated with a Bachelor of Music degree majoring in Jazz Composition and Arranging. Among her professors was renowned American jazz pianist Ray Santisi, whom Debbie took mentorship under. His notable students include Diana Krall, Keith Jarrett, and
Hiromi Uehara. Upon returning to Manila, Debbie became a member as pianist of the "Night Flight Fusion Jazz Band" and the "Rhythm of the City Jazz Band," which performed at major hotels and venues in Metro Manila.

Since 2017, Debbie has renewed her passion for jazz music with performances.
throughout venues in Los Angeles, CA. Her concert performances: "An Evening of Ballads & Jazz Up the Hill" at Luminarias in Monterey Park, CA, "A Valentine's Night of Hearts Fusion with Debbie Torres" at Embassy Suites by Hilton Los Angeles in Glendale, CA, and "Jazzy Night with Debbie Torres and Friends", where she shared the stage with renowned Jazz/R&B guitarist Ray
Fuller and other world class musicians, garnered attention among the jazz community. Her prowess on the piano/keyboard and her fervor for standards, jazz fusion, and contemporary jazz easily permeates the hearts and souls of audience members fortunate enough to experience her performances.

She will be performing with an All-Star Band consisting of:
Sekou Bunch - Bass and Musical Director
Felix "D-Kat" Pollard - Drums
Ash Jangda - Guitar
Keith McKelley - Sax
Including Special Guest - Elmer Armstrong's Tribute to the Platters.
---