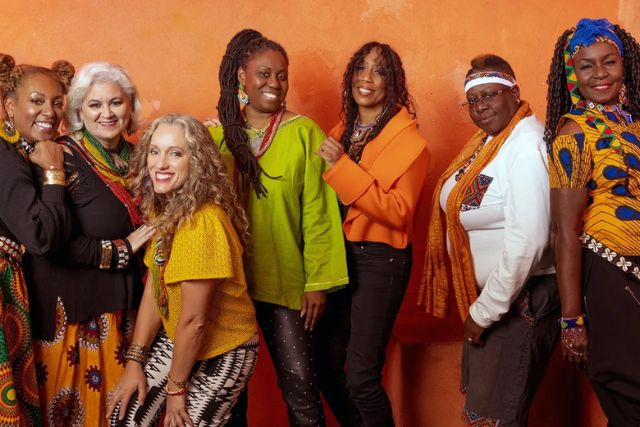 ADAAWE "Seeds of Rhythm" "Growing Forward"
Show: 8:30 pm
All Ages
Hailing from Kenya, Morocco, Israel, Panama and across the United States, the talented musicians of ADAAWE embody intercultural understanding and a celebration of music from around the globe. Through their music, they also build community, promote women's rights and social and environmental justice.
ADAAWE has headlined performing arts venues, festivals, colleges and clubs across the U.S., and opened for such artists as Mickey Hart, James Brown and Michael Franti.

ADAAWE has supported benefits such as "Human Rights Watch," with Annette Benning, "Roots & Shoots," with Jane Goodall and the "Urban Peace Awards" with Harry Belafonte. Recently, they performed at the wedding of Stevie Wonder, were "Pick of the Fringe" at the Edinburgh Fringe Festival, and with their full nine piece fusion band, toured the East Coast with the Levitt Pavilion Foundation. If you watched the 2022 Rose Parade, you saw ADAAWE members featured with LeAnn Rimes in the opening number!
ADAAWE's album "Passage" is an arresting collection of Afro-fusion, ranging from their trademark vocal percussion and djembe drum rhythms to Afrobeat, reggae and soul. Continuing their legacy, ADAAWE is teaming up with writer/producer Curt Wilson and Nashville-based label, United Alliance Music Group (UAMG), to release new music in 2023
---